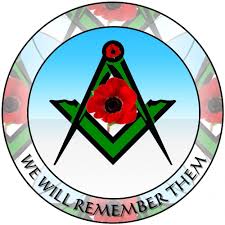 'We Will Remember Them'. These are words that reverberate at this time of year and for the members of the Lodge of Science this comes into sharp focus as we remember two of our Fallen Brethren who made the ultimate sacrifice during the 1st World War.

Captain Frederick Alexander Charles Liebert had previously served in 3rd Dragoon Guards, from which he retired in 1905. He volunteered for foreign service on the outbreak of war joining the North Somerset Yeomanry (T.F.) on 5 Aug 1914. He deployed to France on 2 Nov 1914 and was killed in action during the First Battle of Ypres on 17 Nov 1914. He was aged 32 years and was buried in Ypres Town Cemetery. His grave can be found in the main Ypres Town Cemetery, row E2 Plot 21.
The particular action in which he lost his life was the first action in which the North Somerset Yeomanry took a prominent part. It was contested only over space of ground some 500 yards square and B Squadron led by Captain Liebert, held the first of a series of trenches, upon which a vigorous shell fire of an appalling accuracy was directed. The Germans got to within 15 yards of the trenches but the attack was repelled, with very heavy losses to them. An account by one of his troopers, 18 year old Trooper Fudge, tells how Captain Liebert was turning around to direct up reinforcements when shrapnel from a shell struck him in the head. One other officer and three troopers were killed by the same shell blast. A letter from his Colonel and brother officers testify to his valuable services as an officer. His high sense of duty combined with much cheerfulness in difficulties and also to the great respect and affection his squadron had for him.
During his former years Capt. Liebert was Assistant Secretary to the Blackmore Yale Hounds and Secretary to the Wincanton Races; he was devoted to hunting, a keen golfer, cricketer and Freemason.

Captain Walter Ball Dyke of 155th Siege Battery, Royal Garrison Artillery. Walter applied for a temporary commission in September 1914 and disembarked at Le Havre in August 1916, often operating as Second in Command of his Battery. On 10 April 1918 there was a heavy enemy bombardment followed by an infantry attack, and the Battery was heavily shelled with high explosive and gas whilst firing on SOS targets. Capt. Dyke was killed aged 21 whilst bringing up ammunition to the guns.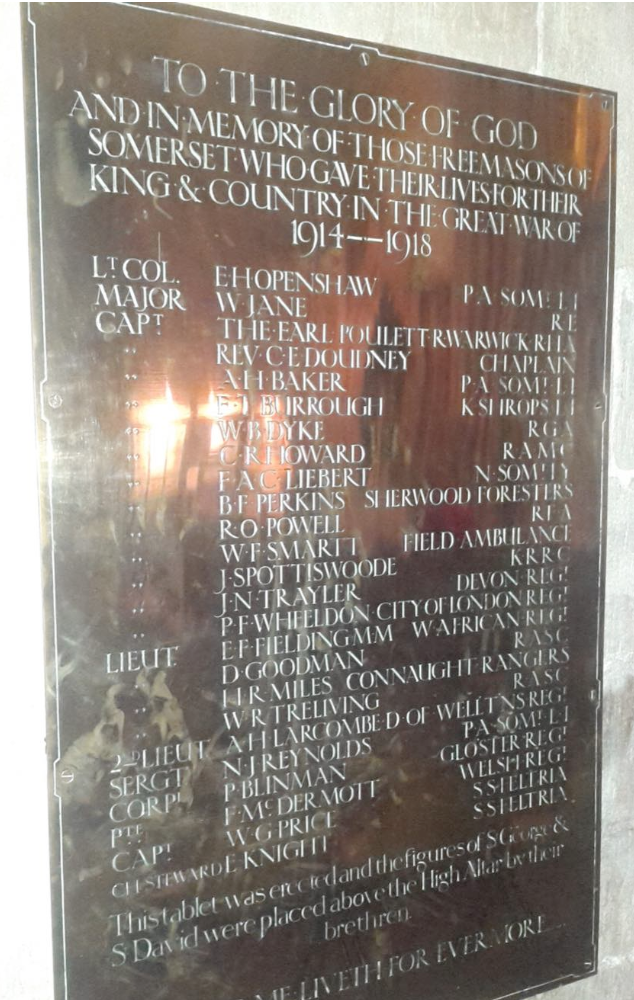 The Somerset Freemasons Memorial is a brass plaque on the North Wall of the North Transept of Wells Cathedral, Somerset. This tablet was erected and the figures of St George and St David were placed above the High Altar by their Brethren.
THEIR NAME LIVETH FOR EVERMORE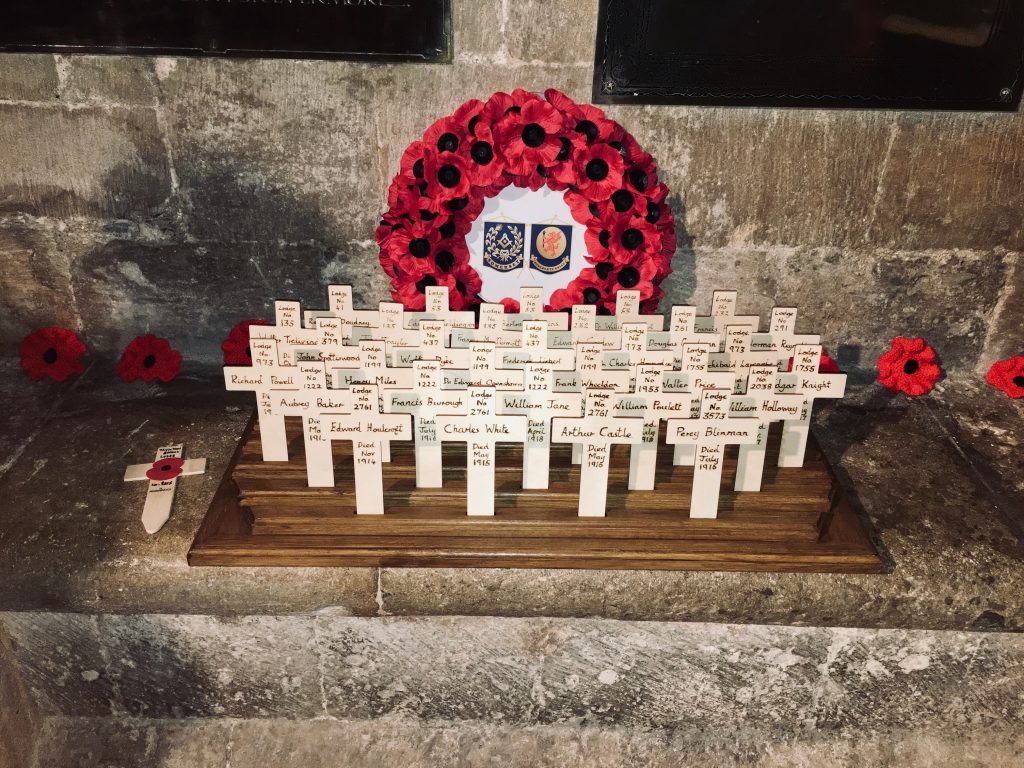 We would like to thank the Imperial War Museum, Roll of Honour, Entente Cordiale Tours and The Province of Somerset Great War Project that have been the sources of information and images for this page.